COOKE TO PERFORM "tastes like" OFF OF HER DEBUT ALBUM shot in the dark
shot in the dark DEBUTED AT NO. 6 ON SPOTIFY'S TOP DEBUT ALBUMS USA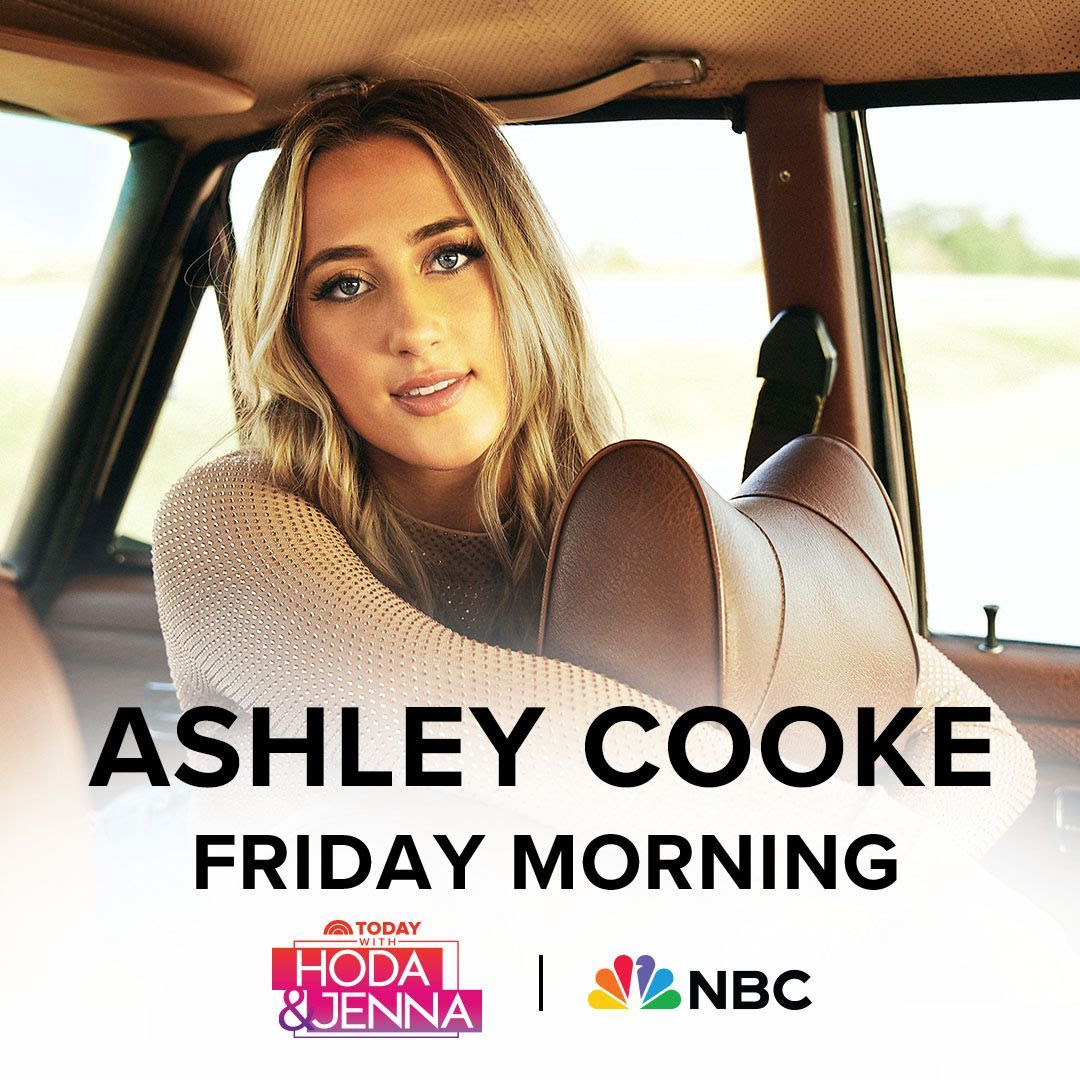 Courtesy of NBC's TODAY |  Image by Robby Klein  | Download here 
NASHVILLE, TENN. –  Big Loud's country songstress, Ashley Cooke, will take center stage in New York City this Friday, July 28 with her highly anticipated morning television debut on NBC's TODAY with Hoda & Jenna. Hot on the heels of releasing her debut album shot in the dark last Friday, July 21, Cooke will check off yet another dream on her bucket list while she performs track No.1 off the new project, "tastes like," live from Times Square during NBC'S TODAY with Hoda & Jenna.
The carefully crafted album, available everywhere now, saw a massive opening weekend, notching the No. 6 spot in the Top 10 of Spotify's Top Debut Albums USA. As one of the longest debut albums from a female country artist to date, Cooke's writing prowess is on full display across the collection's 24 tracks, 20 of which Cooke co-wrote. Showcasing the pages of her journal laid bare for all to see, the collection stands as a testament to the roller coaster of life, inviting listeners to come along for the ride to experience each raw and relatable moment through her sun-kissed melodies and genuine lyrics. Also featured on the album are collaborations with some of Nashville's most sought after names including Jackson Dean, Colbie Caillat, Nate Smith and Brett Young.
As Cooke's rise to country stardom continues to gain momentum, the unstoppable artist will head out for her second weekend on Luke Bryan's Country On Tour  before stopping at Nashville's Bridgestone Arena on Aug. 12. Come Aug. 23, Cooke will launch her first-ever headlining tour, shot in the dark Tour, in her home state of Florida in Panama City with rising acts Matt Schuster and Vincent Mason. Stay up to date with the latest news and more exciting announcements by visiting ashleycooke.com and following along on Instagram, YouTube and TikTok @theashleycooke.
CRITICAL ACCLAIM FOR SHOT IN THE DARK
"Cooke, rightfully so, is on top of the world with the milestone release — and she knows it. But she's delightfully humble; dedicated in her pursuit to stay true to Ashley, and not anybody else." – People
"No one can overlook Cooke's songwriting contributions to the project. Each of the songs is a deeply intimate vignette from her own life. Without Cooke holding the reins, this project would be far less impactful." – American Songwriter
"Cooke deftly mixes stories of love, heartbreak and lessons learned along the way, and showcases a range of sonic styles — all underpinned by her powerful but accessible vocals." – Billboard
"shot in the dark showcases Cooke's musical flexibility and the spread and scope of sounds and styles currently in the genre." – The Tennessean
"A thoroughly engaging listen…one of the best this year…a finite collection of heartfelt ballads and gratifyingly relatable pay-offs that immediately cements Cooke as a one of the genre's most engaging new acts" – Holler.
"anchored by Cooke's smoky timbre and reflective writing approach" – Billboard
"From gut-wrenching heartbreak ballads to empowering spells of freedom to self-reflecting anthems, and everything in between, Ashley Cooke's songs evoke a sense of relatability for fans." – Country Now
shot in the dark TRACKLIST
1. "tastes like" (Ashley Cooke, Jordan Minton, Emily Weisband, Corey Crowder)
2. "it's been a year" (Ashley Cooke, Will Weatherly, Brett Tyler)
3. "see you around" (feat. Nate Smith) (Ashley Cooke, Brett Tyler, Will Bundy)
4. "shot in the dark" (Ashley Cooke, Jordan Minton, Emily Weisband, Corey Crowder)
5. "moving on with grace" (Ashley Cooke, Rocky Block, Jake Mitchell)
6. "getting into" (Ashley Cooke, Emily Weisband, Will Weatherly)
7. "enough to leave" (Ashley Cooke, Matt Roy, Lauren Weintraub)
8. "i almost do" (Ashley Cooke, Trevor Rosen, Josh Osborne)
9. "mean girl" (feat. Colbie Caillat) (Ashley Cooke, Colbie Caillat, Nicolle Galyon, Jimmy Robbins)
10. "running back" (Ashley Cooke, Emily Weisband, Will Weatherly)
11. "good thing going" (Ashley Cooke, Matt Dragstrem, Brett Tyler, Geoff Warburton)
12. "next to you" (Ashley Cooke)
13. "good to be back" (Ashley Cooke, Hunter Phelps, Jameson Rodgers, Alysa Vanderheym)
14. "what are you on fire about" (feat. Jackson Dean) (Lainey Wilson, Jason Nix, Luke Dick)
15. "say no more" (Devin Dawson, Donovan Woods, Travis Wood)
16. "tryin' to love you" (Ashley Cooke, Hillary Lindsey, Chase McGill, Jimmy Robbins)
17. "back in the saddle" (Josh Kerr, Jordan Reynolds, Jordan Minton)
18. "your place" (Ashley Cooke, Jordan Minton, Mark Trussell)
19. "dirt on 'em" (Ashley Cooke, Jessi Alexander, Aysa Vanderheym)
20. "build a bridge" (Sasha Sloan, Ryan Hurd, Geoff Warburton, Henry Agincourt Allen)
21. "get you" (Ashley Cooke, Jacob Durrett, John Byron)
22. "never til now" (feat. Brett Young) (Ashley Cooke, Matt Roy)
23. "gonna get" (Ashley Cooke, Sasha Sloan, Blake Pendergrass, David Garcia)
24. "state i'm in" (Ashley Cooke, Emily Weisband, Jordan Reynolds)
RETURN HOME