FANS WILL GET THEIR FIRST TASTE OF THE 24-SONG COLLECTION THIS FRIDAY, JUNE 23 WITH THE RELEASE OF THREE NEW TRACKS
COOKE'S SPECIAL ANNOUNCEMENT WAS MADE FROM INSIDE THE CIRCLE AT THE GRAND OLE OPRY
shot in the dark Album Art | Courtesy of Big Loud Records / Back Blocks Music | Download here 
NASHVILLE, TENN. –  Big Loud's rising country star Ashley Cooke announces the release of her debut album shot in the dark, dropping Friday, July 21. Revealing the highly anticipated body of work in a surprise moment at the Grand Ole Opry this evening, Cooke also treated fans to the first live performance of the album's closing track "state i'm in." The new chapter begins this Friday, June 23, when the breakout songstress will share the flavorful introduction of what fans can expect from the album with the release of three tracks: "tastes like," "shot in the dark" and "mean girl (feat. Colbie Caillat)."
"The last year of my life has been crazy and wonderful in so many ways, but I think the next year might be even better…" shares the Opry NextStage artist from the coveted Circle. "It's been full of bucket list moments for me… I made my Opry debut, signed my first deals, went on tours with my heroes, and lived a lot of life in the moments in between. This album is about all of that — and it's about the magic that can come if you really take risks in life and love. It's a huge honor to announce my debut album at a place that means so much to me. So, without further ado on July 21st, I'll release my first album shot in the dark, and I can't wait for each of you to hear it. Thank you to everyone who helped get me here, and thank you for making me feel so safe to take a shot in the dark."
The forthcoming album, available for pre-save/pre-add now, enlists some of country music's hottest names like Caillat, Nate Smith, Jackson Dean, and Brett Young for collaborations. With 24 carefully crafted tracks, shot in the dark will be among one of the longest debut albums by a female country artist to date. Unfolding as if they were ripped from pages of her journal, Cooke shares her sun-kissed blend of two-lane pop country as she opens her heart to tell the true tales of love, heartbreak and all the moments in between. Fully capturing the spirit of a twenty-something that is unafraid to chase her dreams, create her own path and take risks, paired with raw relatability and deeply addictive hooks, Cooke's introductory record invites listeners to join her while she fearlessly jumps into the whirlwind of life's roller coaster.
PRE-SAVE/PRE-ADD shot in the dark
Since her first release in late 2020, the promising talent dubbed a "rising star to watch" (WWD) has already amassed an impressive 200M global career streams with fan favorite hits like SiriusXM's The Highway No.1 "never til now." With her irresistible melodies and unique country sound, hailed as "arguably better than ever" by American Songwriter, Cooke garnered attention from Spotify who named her a Hot Country Artist to Watch in 2022. She has also been selected as part of the latest wave of artists in prestigious programs such as Opry's NextStage, CMT's Next Women of Country and YouTube's Foundry Program.
Only halfway through her biggest year yet, Cooke kicked off 2023 strong with her first overseas performance at C2C, followed by tours with Cole Swindell, Jordan Davis, and Brett Young. As she gears up to join Luke Bryan's Country On Tour this fall, Cooke solidifies her position as a "force to be reckoned with" (CMT).Stay up to date with the latest news by visiting ashleycooke.com and following along on Instagram, YouTube and TikTok @theashleycooke.
shot in the dark TRACKLIST
1. "tastes like" (Ashley Cooke, Jordan Minton, Emily Weisband, Corey Crowder)
2. "it's been a year" (Ashley Cooke, Will Weatherly, Brett Tyler)
3. "see you around" (feat. Nate Smith) (Ashley Cooke, Brett Tyler, Will Bundy)
4. "shot in the dark" (Ashley Cooke, Jordan Minton, Emily Weisband, Corey Crowder)
5. "moving on with grace" (Ashley Cooke, Rocky Block, Jake Mitchell)
6. "getting into" (Ashley Cooke, Emily Weisband, Will Weatherly)
7. "enough to leave" (Ashley Cooke, Matt Roy, Lauren Weintraub)
8. "i almost do" (Ashley Cooke, Trevor Rosen, Josh Osborne)
9. "mean girl" (feat. Colbie Caillat) (Ashley Cooke, Colbie Caillat, Nicolle Galyon, Jimmy Robbins)
10. "running back" (Ashley Cooke, Emily Weisband, Will Weatherly)
11. "good thing going" (Ashley Cooke, Matt Dragstrem, Brett Tyler, Geoff Warburton)
12. "next to you" (Ashley Cooke)
13. "good to be back" (Ashley Cooke, Hunter Phelps, Jameson Rodgers, Alysa Vanderheym)
14. "what are you on fire about" (feat. Jackson Dean) (Lainey Wilson, Jason Nix, Luke Dick)
15. "say no more" (Devin Dawson, Donovan Woods, Travis Wood)
16. "tryin' to love you" (Ashley Cooke, Hillary Lindsey, Chase McGill, Jimmy Robbins)
17. "back in the saddle" (Josh Kerr, Jordan Reynolds, Jordan Minton)
18. "your place" (Ashley Cooke, Jordan Minton, Mark Trussell)
19. "dirt on 'em" (Ashley Cooke, Jessi Alexander, Aysa Vanderheym)
20. "build a bridge" (Sasha Sloan, Ryan Hurd, Geoff Warburton, Henry Agincourt Allen)
21. "get you" (Ashley Cooke, Jacob Durrett, John Byron)
22. "never til now" (feat. Brett Young) (Ashley Cooke, Matt Roy)
23. "gonna get" (Ashley Cooke, Sasha Sloan, Blake Pendergrass, David Garcia)
24. "state i'm in" (Ashley Cooke, Emily Weisband, Jordan Reynolds)
Ashley Cooke Announces Her Debut Album on Stage at the Opry | Image by Mick Bodie | Download here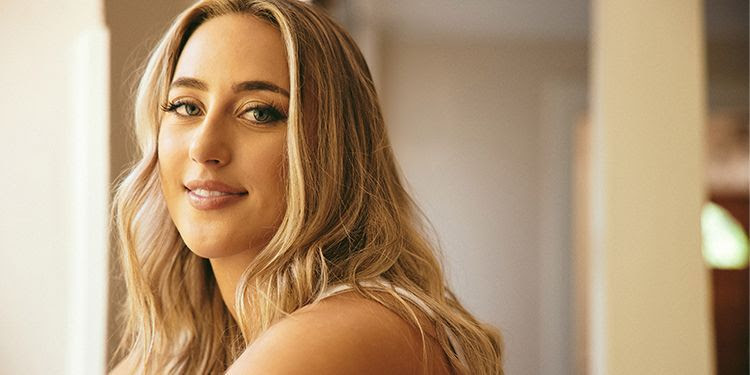 Ashley Cooke | Image by Robby Klein | Download here
RETURN HOME